My Option Runs Off with Chicago Handicap
Image: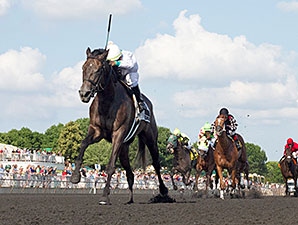 Description:
Tim Keeley's homebred My Option, winless since taking the Arlington Oaks (gr. III) last July over Arlington Park's Polytrack, roared past pacesetter Flower Spell at the eighth pole to win the Chicago Handicap (gr. III) by 6 1/2 lengths June 28 at the Arlington Heights, Ill., track. .



The 4-year-old Illinois-bred filly by Belong to Me—Out of Options, by Cohiba, covered the seven furlongs in 1:23.72 under rider Eddie Perez. Flower Spell held on for second and favored Disco Barbie was third.



Apropos, the 7-2 morning-line favorite and 120-pound highweight, was a late scratch. With her departure, the defending champion in the Chicago Handicap, Cozze Up Lady, was the 119-pound highweight. The rest of the field carried from 114-118 pounds. The winner carried 117.



My Option paid $13.20, $5.40, and $3.60; Flower Spell paid $8 and $4.20; and Disco Barbie returned $3.20 to show. The $2 2-6 exacta paid $103.80.



Flower Spell, with Rosemary Homeister Jr. up, broke first and quickly established the early lead, getting the opening quarter mile in :23.40. Eden Prairie and Chortle gave chase in the early running. Flower Spell held a clear lead after a half-mile in :46.52 and as the field came out of the turn. My Option came with a sweeping move out of the turn to get position and then easily collared the leader as they hit the eighth pole in 1:10.93.



"She tries hard every time," Perez said of the winner. "I was taking my time early and when I asked, she took off. I had a lot of horse and I was just waiting. By the quarter-pole I knew I was a winner."



Tim Keeley's homebred My Option now has a 2-2-0 mark from four starts on the local Poly. The Chicago Handicap was her third start of the season, running third against state-breds in the Third Chance Handicap April 19 at Hawthorne Race Course and sixth, beaten just two lengths April 24 in the Hendrie Stakes (Can-III) at Woodbine. She has now has a 5-2-4 record from 13 starts and has earned $422,157.



"(In her last race), she broke outward and she got into the race a little too quickly," said winning trainer Chris Block. "She's the kind of filly who needs to lay back and make one run. She was a little too involved in the pace early on and that cost her. She still dug in hard and got a lot out of the race. That was our stepping-stone to today. I called Tim (owner Keeley) a couple minutes after that race and told him the plan doesn't change. We still go to the Chicago Handicap.

 

"She's trained great coming up to it. She and Eddie (jockey Perez) get along really well. At the three-eighths pole I was confident. I know her and I know Eddie's posture when he's got a lot of horse.  He found a nice spot and the rest was history."



My Option paid $13.20 to win, $5.40 to place, and $3.60 to show while Flower Spell returned $8 and $4.20. Disco Barbi returned $3.20.



Out of Options, a 10-time winner and three-time stakes winner against Illinois-breds, earned $415, 650. She failed to have a foal in the three years since she delivered My Option, but delivered a colt this year by Congrats.