Inside the Trip: Queen's Plate Pace
Image: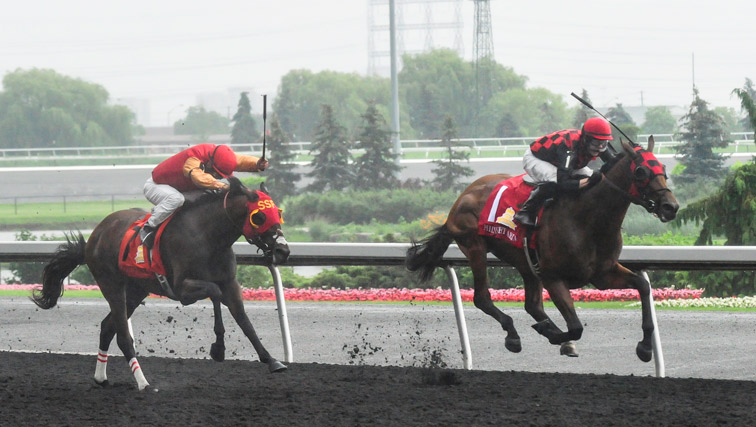 Description:
Midnight Aria wins the 2013 Queen's Plate. (Photo by Eclipse Sportswire)
Woodbine was the first course to unveil Trakus when it did so in 2006, and while it has powered in-running graphics since then, the data accumulated by Trakus can go a long way toward dissecting performance. Data from all races at Woodbine is accessible by accessing the Trakus Charts on the Woodbine Entertainment website.
Let's take a look at some of the data from the key preps for the 155th Queen's Plate, combine it with traditional handicapping, and offer some guidance for the oldest consecutively run race in North America.
June 15 – Plate Trial
You would be hard-pressed to have two more differing; yet back-to-back nine-furlong races than the Plate Trial and Woodbine Oaks. Four of the first five finishers from the Plate Trial are expected back in the main event, while Woodbine Oaks victress Lexie Lou will try the boys in the big race. Pace dynamics always make for interesting study.
None of the seven horses in the Plate Trial seemed all that intent on the lead, and it was the Alan Garcia-partnered Majestic Sunset who dictated a soft tempo. Through a half-mile in more than 49 seconds, set by a 16-1 maiden that had never sniffed the front at any point in his nine-race career, Majestic Sunset lulled the field along and almost managed the caper. Winner We Miss Artie sat a ground-saving trip throughout under Javier Castellano, who patiently waited for room before tipping out and running down the longshot. While there was nothing overly spectacular about We Miss Artie's win, there is no doubting he enjoyed a perfect trip, while Majestic Sunset shared in that with his front-running leisure.
Tower of Texas, last through much of the race, rallied into the slow pace to finish third, beaten  four lengths. Just a maiden winner, the son of Street Sense ran the fastest final furlong of the Plate Trial in 12.12 seconds, which was 0.20 faster than We Miss Artie and 0.40 faster than Majestic Sunset. The extra furlong in the big race, where he will be partnered with John Velazquez, could suit him well.
Man o' Bear is a tougher study, making his seasonal debut in the Plate Trial, trainer Reade Baker indicated this maiden winner was given a shot last time just to get one race into him in advance of the big one. Forward early, he faded somewhat expectedly in the late stages. His lone win, from last September, came defeating fellow Queen's Platers Tower of Texas and Majestic Sunset, when both of those rivals covered significantly more ground than Man o' Bear.
June 15 – Woodbine Oaks, presented by Budweiser
Lexie Lou was incredibly impressive in the Oaks, her first win for new trainer Mark Casse. Front-running foe Wild Catomine set a strong early pace, and by the time they finished the first six furlongs, the fillies were two seconds faster than the Plate Trial run just 30 minutes earlier. With this strong pace, and Lexie Lou in close attendance while covering extra ground, it would be easy to expect that the daughter of Sligo Bay could pack it in. Instead, Lexie Lou kept on, and drew away, winning by 4 ½ lengths.
The latter stages of the Woodbine Oaks were noticeably slower than the Plate Trial, an understandable trait given the early zip in the fillies' race. Lexie Lou's final two furlongs was clocked by Trakus in 25.48 seconds, making it slower than the final quarter for each of the first five finishers in the Plate Trial. That race's fifth-place horse, Man o' Bear, clocked the final quarter in 25.36 seconds.
Overall, Lexie Lou covered the third widest trip in the Oaks, and 44 feet more than second-placer Wild Catomine. Lexie Lou averaged 37.4 MPH, which was 0.5 MPH more than the next three finishers in the race.
May 25 – Marine Stakes
Asserting Bear, Ami's Holiday, and Heart to Heart emerge from a frenetic Marine Stakes. Asserting Bear was first past the post, Ami's Holiday encountered a load of traffic trouble, and Heart to Heart was taken somewhat uncharacteristically off the lead.
ASSERTING BEAR
Photo by Keeneland/Coady Photography
All that talk about saving ground can obviously lead to some issues, such as never finding a way out, and Ami's Holiday endured that type of trip, brushing with Asserting Bear in mid-stretch. While the stewards reversed the top two placings, giving Conquest Top Gun the victory, it left Ami's Holiday, last year's Grey Stakes winner, untouched in third. Asserting Bear did endure a wider journey than most in the Marine, going 33 feet more than Conquest Top Gun and 17 feet more than Ami's Holiday, who was doing his best running when finally getting some clear space in the final stages. Overall, though, there really isn't much separating these two Queen's Plate prospects. Ami's Holiday covered the widest trip in the Coolmore Lexington Stakes at Keeneland, two starts back, while Asserting Bear was listless in his Toyota Blue Grass try with an inside trip.
Don't hold a last place finish against Heart to Heart, who was less than two lengths away from the win photo. He wired a field at Keeneland on grass two starts back in what is showing to have been a very quality field. Second-placer Jessica's Star reeled off three consecutive dirt wins, including the Iowa Derby last week, and the fourth home that day was General Jack, an easy winner of consecutive turf races including the Centaur Stakes at Indiana Grand on Wednesday. With a rider change to Eurico Da Silva, and a race that seems to lack a confirmed pace presence, Heart to Heart is an attractive longshot.
June 8 – Allowance
Coltimus Prime and Athenian Guard last ran in an eventful allowance test in early June. The former was victorious while the latter ducked in at the top of the stretch, dispatching of jockey Justin Stein. As the running line comment suggests, Coltimus Prime merely inherited the lead, but Athenian Guard was looking very strong up front prior to his antics. While he didn't finish that last race, Athenian Guard seemed to be running a solid one. One Destiny was even in third and covered the second-shortest trip in the field.
COLTIMUS PRIME
Photo by Keeneland/Coady Photography
June 6 – Allowance
Lions Bay is making only his fourth career start in the Queen's Plate, but this Martin and Victoria Earle homebred might hold some longshot potential. His June 6th victory in allowance company came from a wide draw, and an incredibly wide trip, covering the most ground in the bulky field of twelve. This performance was in direct contrast to his seasonal debut, when winning a 6-furlong maiden test drawn on the rail and covering what was the shortest trip. To see the son of Sligo Bay pair-up these top performances, against older horses no less and with wildly different journeys was encouraging. Still, this will be a massive class test against his own generation. On paper, he seems a cut below, but it's tough to knock his two runs this year and a good trip could see him grab a slice.
May 11 / June 15 – Allowance
Niigon Express was no match for frontrunning Freitag when they met on June 15, but he handled allowance company in May quite well, defeating eventual next-out inheritant winner Coltimus Prime. What catches the eye from this performance is how well he was moving late. More than eight lengths behind after the opening half mile, Niigon Express made a sustained rally over the final three furlongs and caught Coltimus Prime. Niigon Express got the final quarter in 24.84 seconds, fastest in the race by 0.49 seconds, while Coltimus Prime ran that same section in 25.65 seconds, 0.81 slower than the winner.
If given a legitimate pace setup, Niigon Express seems one of the better horses suited to close. He covered the most ground in this May event and did it again when Freitag won on June 15. In that race, Niigon Express went 58 feet more than Freitag, a distance that equates to about 6 ¾ lengths. Freitag won by 4 ¼ lengths. Cap in Hand, a maiden winner by only a nose, has saved significant ground in his last two starts, including a third behind Freitag and Niigon Express.
May 28 – Allowance
Matador is a handicapping head-scratcher in this spot. He spent the most of the spring outside of Canada, returning in late May to a dazzling win against four rivals. In a tight spot going into the first turn, he was guided outside by Patrick Husbands and covered the most ground in the field. Still, he is difficult to interpret in this group after four consecutive middling efforts prior to his last big race. While his speed figures indicate he is a massive player in the race, and he has a win and two troubled trips in three Woodbine Polytrack starts, ­­­there might be some question as to the quality of his competition last time.
Three of the horses were in that race for the tag, and the one who wasn't (third-home Leif Erikson) came back to be eased in the June 15 race mentioned above, won by Freitag over Niigon Express. The second-place finisher, Tuscan Getaway, returned to be fourth in a turf allowance test. The fourth placer, Dig Alittle Deeper, beaten more than nine lengths by Matador, was all out to win a $40,000 claimer in his next start and the seventh finisher in that race had been beaten 16 lengths by Matador.
Synopsis
How is the pace shaping up in this race? After drawing post 14 for Lexie Lou, who owns the fastest last race Beyer Speed Figure by a considerable degree, trainer Mark Casse suggested the filly probably wouldn't be on the lead, despite sitting in close attendance to a 47-second half-mile split in the Woodbine Oaks. Majestic Sunset was nowhere near the front in each of his races bar the Plate Trial, when he defaulted on the engine and nearly pulled off a shocker. One Destiny has some front-running lines in his first two races but he too ran on with a slow lead when no one else asserted.
30-1 morning line shot Heart to Heart, who gets ground-saving and pace-dispensing aficionado Eurico Rosa DaSilva for the first time, seems a legitimate chance to go forward and back them down as much as possible. He is actually more accomplished, but has some qualities that remind one of Midnight Aria, last year's wire-to-wire winner. The son of English Channel could just be better on grass but that Keeneland allowance win to his credit might just be the best race any horse in this field has run. Given free reign (and rein) to dictate the tempo, Heart to Heart might be the one to catch at a juicy price if the plan for Lexie Lou is to remain a sedate attendant to the pace.
WE MISS ARTIE
Photo by Eclipse Sportswire
Athenian Guard is a wild card relative to the pace as trainer Michael De Paulo removes the blinkers that may have inhibited his antics last time. He has raced with close attendance to the early pace.
We Miss Artie has a plum draw in gate seven and was confidently handled in the Plate Trial, but it is impossible to suggest he had anything less than a perfect trip. While there would be no surprise if he won, a bulky group and a phalanx of horses that want to sit a mid-pack trip could cause the favorite some trouble. At a short price, he is worth a try against.
Lions Bay, drawn wide last out and covering the widest trip, could get a more ground-saving journey in the Queen's Plate. Relatively unexposed against his own generation, he has two wins against older foes and others seem more likely to endure extra ground. He is a real outsider with claims to grab a piece of the pie.
Good luck and enjoy the 155th renewal of the Queen's Plate!
Note: This blog also appeared on Woodbine's website
$1 million Queen's PlateSunday, Woodbine, Race 11, 5:38 p.m. ET1 1/4 miles (All Weather), Canadian-born 3-year-oldsTV coverage: Fox Sports 1 from 5-6:30 p.m. ET
PP
Horse
Jockey
Trainer
ML Odds
1
Cap in Hand
Steven Bahen
Sid Attard
50-1
2
Coltimus Prime
Jesse Campbell
Justin Nixon
20-1
3
Athenian Guard
Omar Moreno
Michael De Paulo
50-1
4
Asserting Bear
Chantal Sutherland-Kruse
Reade Baker
10-1
5
Man o' Bear
Emma-Jayne Wilson
Reade Baker
30-1
6
We Miss Artie
Javier Castellano
Todd Pletcher
8-5
7
Majestic Sunset
Gary Boulanger
Mark Casse
15-1
8
Lions Bay
David Moran
Jamie Attard
30-1
9
Heart to Heart
Eurico Da Silva
Brian Lynch
30-1
10
Matador
Julien Leparoux
Mark Casse
8-1
11
One Destiny
Justin Stein
Alec Fehr
30-1
12
Tower of Texas
John Velazquez
Roger Attfield
20-1
13
Niigon Express
Gerry Olguin
Paul Attard
30-1
14
Lexie Lou
Patrick Husbands
Mark Casse
4-1
15
Ami's Holiday
Luis Contreras
Josie Carroll
10-1
All assigned 126 pounds except filly Lexie Lou (121).