Hong Kong Season Ends With Handle Record
Image: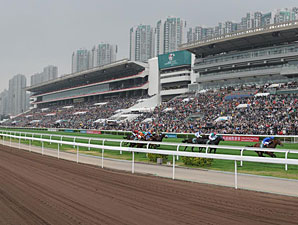 Description:
The Hong Kong Jockey Club reported a record total handle of HK$101.838 billion for the  2013-14 season, which concluded July 6.
Hong Kong Jockey Club's chief executive officer Winfried Engelbrecht-Bresges described the season as the "most remarkable and notable season in our 130-year history." The season also ushered in commingled pari-mutuel wagering on Hong Kong races in the United States. Hong Kong pools are the largest in the world.
A crowd of almost 35,000 turned out at Sha Tin to witness the season finale. Caspar Fownes and John Size went down to the wire in their face-off for the champion trainer title, with Fownes prevailing to take the title with 62 wins. Zac Purton took the jockey title with 112 victories and Dickey Lui was the top apprentice, scoring 16 wins.
The total attendance on closing day, including Happy Valley Racecourse, was 38,680. It pushed the season's overall attendance beyond two million for the second season in succession.
"The 2013-14 season has been a memorable one for several reasons, and in my opinion it is one of the most exciting Hong Kong racing has ever known," said Engelbrecht-Bresges.
"We have achieved some important milestones in our racing development, one of those being a new record for racing turnover, which has exceeded the HK$100 billion mark for the first time in the club's history
;
we have achieved an increase of 8.5% in turnover from last season. We are also pleased to report that this season we have generated an HK$11.76 billion contribution in tax to the Hong Kong government from the horseracing side of our business.
"Along with the outstanding achievements of our top horses at home and overseas, and the huge success of the 35th Asian Racing Conference here, we have seen the status of the sport in Hong Kong rise to a new height."
The July 6 handle of HK$1.778 billion was the highest single-day turnover for 17 years, since the final day of the 1996-97 season.
"In 2005-2006 we had a turnover low of HK$60 billion and now it is up to HK$101.8 billion, and I think it is not by luck. We had a very clear strategy that we had to invest, that we had to understand our customers better, and with this strategy and the significant investment we have made, we have been able to achieve this remarkable result," said Engelbrecht-Bresges.
Engelbrecht-Bresges lauded the achievements of Hong Kong's elite horses and horsemen in driving forward the sport at home and also showcasing the quality of Hong Kong racing overseas. 
"Our top horses excelled with group I doubles in Dubai and Singapore, and also won four of our six International group I here at Sha Tin," he said. "This shows that our best horses possess genuine group I ability but also that we have real depth to our talent here."
Bill Nader, the Hong Kong Jockey Club's executive director of racing, said: "This has been a phenomenal year and I think without doubt this has been the greatest season in the history of Hong Kong racing, both domestically and internationally. For a little place we pack a big punch and I think the whole world understands that now."
The 2014-15 Hong Kong season begins Sept. 14.