Tip of the Week: Let's Do It Again
Image: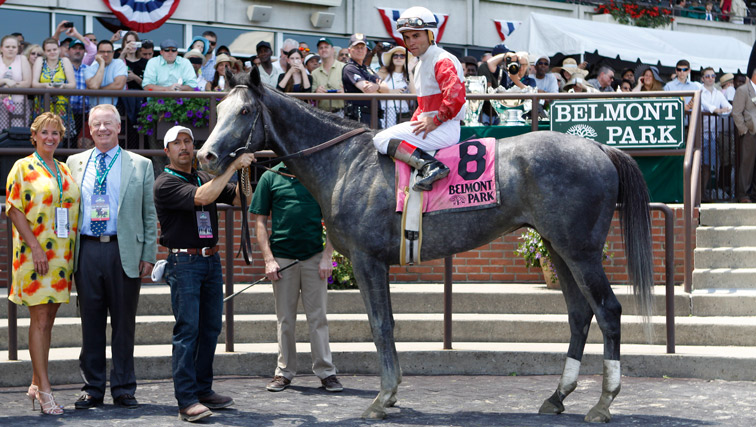 Description:
Some Thoroughbreds may take a while to reach the winner's circle but then make several return trips. (Photo by Eclipse Sportswire)
Often it takes a horse a while to learn how to win, but once he finally samples a taste of the winner's circle he can develop a taste for it.
Lincoln Law needed eight tries to break his maiden and his first seven starts were hardly memorable. His best finish was a third in a maiden special weight race at Turfway Park in March.
So when he made that eighth start in a $10,000 maiden claiming race at Churchill Downs on May 25 – after finishing fourth in a $30,000 claimer in his previous race - it appeared to be a move wrought with desperation to finally get a win.
What it proved to be was a revelation as Lincoln Law was sent off as a 3-10 favorite and won by a whopping 11 ½ lengths while earning a career-best speed figure.
While weak competition played a role in the margin of victory, to win by that much in fast time gave the impression that Lincoln Law had finally latched on to the concept of beating other horses to the finish line.
Another positive sign came from Lincoln Law's placement in his next race. He was entered in an ambitious spot, a $30,000 claimer at Churchill Downs on June 27 for non-winners of two races in their lifetime.
That amounted to a sizeable jump in claiming price from his victory, yet a check of his past performances showed that aside from the third-place finish at Turfway, the "old" Lincoln Law had been fourth in both a $50,000 claimer at Keeneland and a maiden special weight race at Churchill Downs. Those races are a notch above the $30,000 claimer and raised the notion that if the "old" Lincoln Law could be competitive in those races, the "new" Lincoln Law could be good enough to handle limited winners.
Reading into his connections' faith in giving him a tougher challenge and seeing an attractive morning line price of 10-1 in a field of seven, Lincoln Law became an intriguing longshot with the potential to put together a winning streak.
Those who backed him were delighted to learn that Lincoln Law had indeed developed an affinity for the winner's circle as he won by 2 ½ lengths and paid $16.20 to win – a far cry from the $2.60 payoff in his maiden win.
THE LESSON: A horse who records his first win in a breakthrough effort could be poised to start a winning streak.