Program Spotlight: Suffolk Downs Thoroughbred Retirement
Image: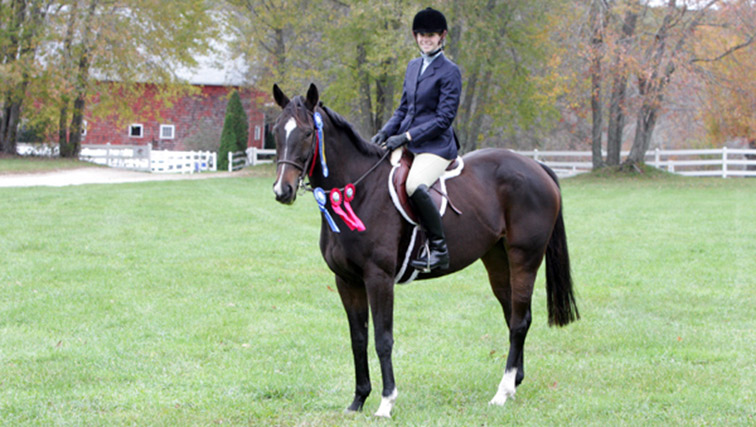 Description:
Iwanbegeorgiesgal and Kate Taylor showing off their ribbons after a successful show. Iwanbegeorgiesgal raced 15 times and is now a successful hunter/jumper and eventer. (Photo courtesy of Suffolk Downs)
When Suffolk Downs became the first track to implement a strict anti-slaughter policy in 2008, it decided that an aftercare program to place retired racehorses from the track was a necessity.
"For years, the track had worked very closely with CANTER New England, and we really amped up that partnership significantly," said Chip Tuttle, Suffolk Down's chief operating officer. "We also added an on-site, dedicated staff person in the barn area to help with placement and to facilitate the retirement and second-career opportunities.
"We've got some other initiatives as well including a [Thoroughbred Retirement Foundation] partnership at the Plymouth House of Corrections that was funded initially through a grant from the Fields family foundation, the foundation of Richard Fields, one of our principal owners. [Fields] is a rancher and a Thoroughbred owner and really a horse enthusiast, so this was something that Richard felt was very important when he came to Suffolk Downs in 2007 and thankfully we had a good foundation to build upon."
The program works through CANTER New England and includes an application for potential adopters to fill out. Since 2009, Suffolk Downs has sold more than 600 racehorses after their careers were over through the CANTER program.
While adopters from off the track make up a large percentage of the applicants, many of the retired racers have gone to people connected to Suffolk Downs, including Tuttle himself.
"It's become somewhat ingrained in the culture here at the track, and Richard Fields has taken some ex-racehorses to his ranch and made them part of his operation and our handicapper and racing analyst Jessica Paqueete has an ex-Thoroughbred that she rides regularly and I have one as well," Tuttle said. "In 2011, my family took a horse off the track and we've converted him into a wonderful trail rider and pleasure horse that we keep at a barn near our house.
Tuttle learned so much from the experience of transitioning "Sebastian" (registered with The Jockey Club under the name I Testify) to a second career that he thinks adopting a Thoroughbred off the track is something everyone in racing management should experience.
"I would encourage anybody in management in racing to try it," Tuttle said. "I think it gives you a substantial appreciation for what's involved in helping our athletes transition to other careers and what our responsibilities are."
Tuttle recommends that those getting an off-the-track-Thoroughbred have a lot of patience because they have to get used to a slower lifestyle. As horses used to hard work, it can take a little bit longer for a retired racehorse to understand that there is a different set of expectations for them after they retire.
Tuttle's own ex-racehorse taught him that owners willing to stick with the challenge of transitioning the horse from a racehorse to a retired racehorse end up with a very willing partner.
As an effort to continuously improve the program, Suffolk Downs and CANTER recently teamed up to create a new way to transition Thoroughbreds from track life to a calmer environment. The program appeals to those that may not be ready for horses coming straight off the track but still have the desire to adopt a retired racehorse. It also is a good program for those that may not be able to own a horse but want to help a racehorse transition into a new career.
"It sometimes requires some time to take racehorses and get the racehorse out of them, so we actually started a pilot program last year where people could adopt a horse for a six-month transition period," Tuttle said.
"So if we wanted to send a horse to a barn for six months, someone could fund that six-month transition period as a way to ease racehorses back into potential second careers in a way that you could make a gift to CANTER. CANTER would in turn be able to pay the expenses of the barn to help transition the horse. But at the end of the process, somebody still has to find a home for the horse but it may be easier to find a home for the horse after six months off the track than directly coming from the barn area to somebody's stall."
In 2011, the track earned full accreditation from the National Thoroughbred Racing Association's Safety and Integrity Alliance due in part to its aftercare efforts. Another part of the effort is opening its backside to the public every year. These "open houses" are held near the end of its meet to introduce potential adopters to the horses ready for a new career.
"We have open houses a couple times a year near the end of our meet where we open up the barn area and potential owners and adopters come in, similar to the Keeneland sale but on a much more modest scale," Tuttle said. "We take the horses that are candidates and parade them and let everybody look and them and give them a little bit of history on the horse and what their disposition is like."
Tuttle urges those who want to support the program but are unable adopt a horse to donate to CANTER New England and the Thoroughbred Retirement Foundation, both organizations that work closely with Suffolk.
"They can make donations to the TRF or to CANTER and there's clearly two different things there," Tuttle said. "TRF is mostly horses that are not necessarily fit for a second career and are in retirement as opposed to a second career. CANTER is much more about transitioning and facilitating horses into second careers. … Those happen to be the two we partner with the most."
Tuttle encourages fans to donate to aftercare programs around the country, even if it is not to one the organizations that partners with Suffolk Downs.
"I encourage any racing fan for whom the enjoyment of the game and the appreciation of the horses is something that is important to him or her, [donating] is a great way to show this appreciation."
Suffolk Downs' eighth annual open house is scheduled for Oct. 20. For more information on any part of the program, fans can visit the aftercare section of Suffolk Down's website.