Book Review: Refusal, by Felix Francis
Image: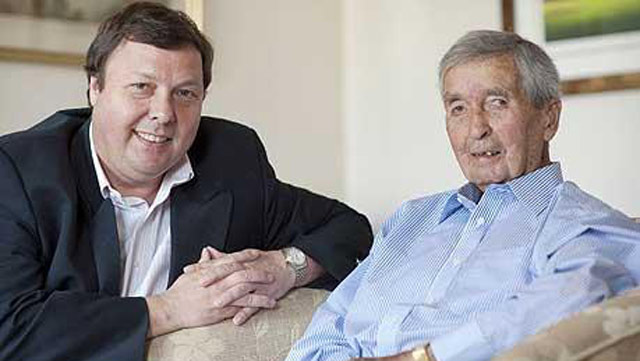 Description:
Felix Francis and his father, Dick Francis, before the latter died in February 2010.
Murder and mayhem have been a family trait for more than 50 years.
As a kid in 1965, Felix Francis remembers sitting around the breakfast table having a discussion with his parents as to whether Sid Halley would survive the night lying on an office floor with a .38 slug in his guts.
"My mother chipped in, saying 'yes, with his blood dripping through a crack in the linoleum floor' and that went in the book 'Odds Against'," recalled Francis, 60.
There are few mystery writers who have had such long and distinguished careers as Dick Francis. His stable full of whodunits were chock full of suspense and intrigue, keenly evocative of the racing world within which their tales of skullduggery were set.  With more than 80 million copies sold worldwide over the years, the books have been translated into 35 languages including Japanese and recently two new languages, Ukrainian and Georgian, have been added.
Francis books were one of the greatest fiction factories of the 20th century.
The ex-jockey-turned-author even counted the Queen Mother as one of the biggest fans of his horse racing thrillers. The first copy of each new release was delivered quietly to the back door at Buckingham Palace.
It says 'A Dick Francis Novel' on the cover of the just released "Refusal" in text only slightly smaller than Felix Francis, the youngest son of Dick Francis and heir to his stable of bestselling thrillers. It seems "Dick Francis" is now a brand.
In the past few years, Felix Francis acknowledged that he helped his father with both the research and writing of many of his novels, particularly "Twice Shy," "Shattered" and "Under Orders." They shared a love of racing and often worked together on plot and character details at Dick's home in the Cayman Islands. Following the death of his father in February 2010 at age 89, Felix grabbed the literary reins.
Going solo seems to be no obstacle for the youngest son of Dick Francis. This fall marks his third stand-alone book in "Refusal."
In it, Francis successfully resurrects one of his late father's most popular creations and only series character, champion-jockey-turned-racetrack-private-eye Sid Halley, who lost the use of his left hand due to a horrific racing fall that ended his illustrious career in the saddle.
Refusal follows hard on the heels of Felix's "Bloodline" and "Gamble." Halley's rebirth is a seamless transition from his outings in "Odds Against," "Whip Hand," "Come to Grief" and "Under Orders" which were penned by the senior Francis over several decades.
Halley had been harassed, beaten, chained, and shot in his investigating business. Enough was enough. Happily settled in the rural tranquility of the Oxfordshire countryside with his second wife, Marina, a medical researcher, and his 6-year-old daughter, Sassy, Sid had given up that life of danger, turning to a career as an investment advisor, enjoying a half-dozen years of stress-free living.
Halley thought nothing could persuade him to go back to being a P.I.   
He thought wrong. Sir Richard Stewart, chairman of the British Horseracing Authority, pays Sid a visit and asks him to investigate a series of dodgy race results. Sid adamantly refuses. Stewart persists, telling Sid someone is manipulating the system and Sid can surely run circles around the whole of the Met Police. He is the man to dig out the truth.
The following day, Sir Richard is found dead and then a man with a strong Northern Irish accent contacts Sid, telling him to deliver a whitewashed report about the suspected race-fixing … or else.
Everything changes when Sassy is kidnapped and Sid realizes that he could pay the ultimate price for his refusal. With his life in tatters and his family in mortal danger, Halley is finally forced to act. Extreme situations demand extreme solutions and he is desperate to get his life back, or die trying. 
The hard-charging, fast-thinking, one-armed ex-jockey morphs back to life. "Refusal" delivers a particularly nasty villain, some high-wire suspense and several spine-jarring plot twists. It is a complex, satisfying story with the added dimension of Halley's wife and young child.
One of the most appealing aspects of this story, as with all Francis books, is to be able to follow the main character's thoughts as the book evolves. Slices of Sid's new life and the British racing scene are well drawn. Several new characters in Sid's world are cleverly presented and I was pleased to find old favorites as well. An unexpected conversation with a psychiatrist and amusing observations of fellow passengers on a train are nice touches.
Like all of Francis' fictional heroes, Halley is intrepid and resourceful, and endures all manner of pain and physical and mental torment with exemplary patience and composure. Like his father, Felix reaffirms the values of human decency and the struggle between the man of good against the forces of lust for power, dishonesty and greed. Good always triumphs in the end.
"Refusal" follows hard on the heels of "Bloodline" and "Gamble," both set in the world of racing and both written with the famous Francis flair and style. It is spare, efficient and unflashy, but clearly draws the reader into the story.
Trained as a physicist, Felix spent 17 years teaching A-level physics before taking on the role as manager to his father's publishing empire. Felix uses many of his father's creative trademarks including the first-person narrator, a subtlety in intellectual problem solving, and the headstrong central character who finds himself, inadvertently, at the scene of the crime and outsmarts the coppers in solving it.
In an interview with the British website Crimetime.com, Francis was asked if it was difficult to resurrect Halley on his own.
"Not really, I have grown up with Sid as an imaginary friend, even if he was the result of someone else's imagination," Francis replied. "I was hugely involved with the writing of 'Under Orders,' so I felt I knew him well even before I started writing 'Refusal,' and I have come to know him better during the past year.
"He is a little older this time having aged more than the customary six months between appearances. And he is now married and the father of a 6-year-old daughter. But Sid remains as he always was, somewhat troubled but with buckets of courage and loyalty, especially towards his family. He takes risks, but calculated risks, and has a burning sense of right and duty."
While the Francis' racing thrillers are formulaic, Felix Francis insists he's developed his own writing technique.
"If what has come out sounds like my father," he observed, "then perhaps it is something in my genes."