Amy Sondej Earns First Victory as Trainer
Image: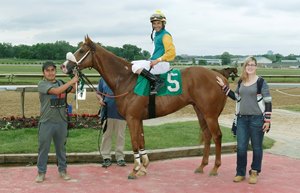 Description: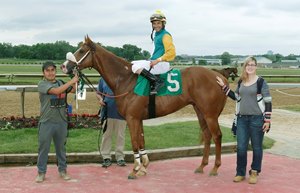 Trainer Amy Sondej scored the first win of her career June 12, when Bosphorus Storm set the pace and won the eighth race at Thistledown by 2 3/4 lengths. The win came with Sondej's 10th starter. She also has three seconds and a third.
Sondej ("Sunday"), 31, first climbed into the saddle at age 5 and grew up showing hunters and jumpers. After graduating from Cleveland State University in 2015 with a degree encompassing business, accounting, and political science, she took a summer job as a groom for trainer Donn Rowe. She spent two years working for Rowe, and moved to the barn of trainer Ivan Vasquez in 2017 before she took out her own trainer's license in January of this year.
Using trainers like Vazquez, Gerardo Carrillo-Dominguez, and Fernando Silva, Sondej began campaigning horses as an owner in 2017. Her first win as an owner came in April of 2017 with the Vazquez-trained Second Time. Sondej also owns Bosphorus Storm.
Sondej was born in Bedford, Ohio, and makes her home in nearby Walton Hills.
The final time for the 5 1/2-furlong claiming sprint was 1:06.28. Ridden by Irwin Rosendo, Bosphorus Storm was the bettors' second choice at 5-2. A 6-year-old gelding by City Zip, he was bred in Kentucky by Runnymede Farm and Peter Callahan.