Emerald Downs Cards Race for Nonagenarian Trainers
Image:
Description: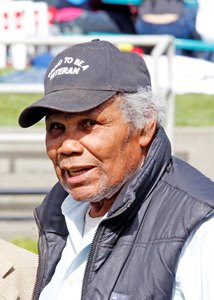 Emerald Downs will card a unique race June 17. There will not only be age restrictions on the horses, but on the trainers, too.
Sunday's sixth race—the "Not in Any Rocking Chair Starter Allowance"—is for 3-year-olds and older who have started for a claiming price of $3,500 or less in 2017-2018 and whose trainer was born on or prior to June 6, 1928.
In other words, the race is open to horses whose trainers are at least 90 years old—and Emerald Downs has several. The horses in Sunday's race are conditioned by 94-year-old Arturo Arboleda, 91-year-old H.R. Pat Mullens, 90-year-old Ira Rhodes, and 90-year-old Bob Meeking, who celebrated his birthday June 6.
"We thought this would be a great way to honor these guys on Father's Day," said Phil Ziegler, president of Emerald Downs. "What other sport could a 90-year-old still be out knocking heads with the younger guys and gals?"
Originally from Canada, Meeking has had a long and celebrated career while conditioning horses like Longacres Derby winners Mincemeat (1970) and Salad Sam (1976). He has five wins this season and is looking forward to Sunday's race.
"I think it's a good idea, and it seems apt for Father's Day," he said. "What it really shows, though, is that this is an ageless business."
Meeking will send out Trelawny in Sunday's six-furlong race. Like his trainer, the 11-year-old gelding is still going strong at an advanced age. He won five races last year and once in three starts this year.
Arboleda is coming off his best season at Emerald Downs. He won 10 races in 2017, including five that paid 10-1 or higher. In 2015, he gave Joe Steiner a leg up for the jockey's 1,000th victory. He has two entrants—Regazze Cat and Cats Gulch—in the five-horse field.
Mullens has 235 wins at Emerald Downs. A veteran of World War II, the Korean War, and the Vietnam War, Mullens overcame a life-threatening aortic aneurysm last winter and already has three wins at the meet.
Rhodes currently has a one-horse stable, consisting of 7-year-old gelding Some Storm Cat, who finished third in his most recent start.