Horsemen Concerned About Golden Gate Fields' Future
Image: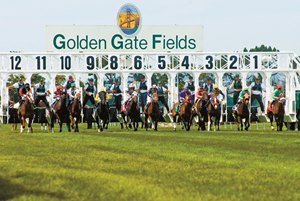 Description: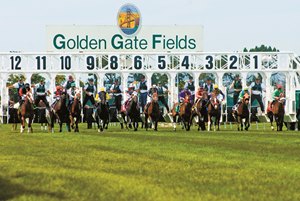 A day after Tim Ritvo of The Stronach Group indicated the closure of Golden Gate Fields may be possible if a simulcasting issue is not settled, Northern California horsemen met with other executives from the company June 14, and many left with concerns about their future in the region.
"We just came off a great meet, when I heard they were up $30-$40 million (in handle), and I've got to come to a meeting where they might be closed down for six weeks and maybe more?" said trainer Steve Sherman. "(The Stronach Group vice president of racing P.J. Campo) said we might have to take two steps back to take five steps forward, but we can't afford to take two steps back."
While executives from The Stronach Group maintained the meeting was specifically about informing the local horsemen about Golden Gate's desire to withdraw from Northern California Off-Track Wagering Inc. (NOTWINC), which deals with brick-and-mortar simulcast operations in the region, multiple horsemen felt the ultimate goal was to get them on board to race at Golden Gate year-round.
Because of the intended withdrawal from NOTWINC, The Stronach Group feels the California Horse Racing Board may not approve its meet application (Aug. 22-Oct. 2 dates) June 21 during the CHRB's scheduled monthly meeting. CHRB executive director Rick Baedeker said June 13 California law does allow for Golden Gate to opt out of NOTWINC, but the track would have to negotiate its own deal with the 10 satellite locations in Northern California.
"I think all of us got blindsided by this," said trainer Blaine Wright. "Two months ago we all stood together behind Golden Gate (during a stabling dispute between the track and the region's fair circuit) and that all worked out, and here we are again.
"The objective is they want to run year-round, and that's fine with me."
Golden Gate's general manager, David Duggan, said the objective of the meeting was not to endorse year-round racing but to inform horsemen of the NOTWINC decision with hopes they would voice their opinions to the CHRB.
"It's no secret we'd like to run year-round, but the goal of the meeting was to reiterate in person what Tim Ritvo said yesterday," Duggan said. "We tried to explain the NOTWINC situation face to face."
BALAN: Golden Gate Could Close Over Simulcast Issue
The talk left some horsemen uncomfortable and feeling stuck in the middle of a dispute between the California Authority of Racing Fairs, The Stronach Group, and the CHRB.
"To me I don't see what the horsemen can do," Sherman said. "(Campo) said to get up and talk (at the CHRB meeting) next Thursday, but we don't have a say. We're in a tough spot, at the mercy of everybody."
"We're all just trying to make a living here and make it work," Wright said. "It's expensive to live here, expensive to train here, and expensive to race here. Me and my best friends, we're running large stables here, and we don't know what to do and what to tell our owners.
"I train racehorses for a living. I work with my hands and work with animals. What's best for racing? I'm not sure. I'm just trying to go about my job. If the place isn't open for racing or training, we might have to go somewhere else. I have a wife and young daughter at home, and I don't know where we're going."
Horsemen who were at the meeting, and even those who weren't, supported the idea of racing at Golden Gate year-round, even if it means losing the fair circuit, which is politically powerful in California but lags behind Golden Gate in handle and field size with desired summer dates.
"I don't like what the CHRB is doing. Everybody who has a racetrack establishment should apply for dates, and they should give them dates, and if they go under, they go under," Sherman said of the likelihood that if Golden Gate and the fairs ran at the same time, one would not survive. "The CHRB shouldn't dictate dates. The fairs have had a gravy train for 40, 50 years. 90% of horsemen want to stay at Golden Gate. The other 10% can go.
"(The Stronach Group) will win here. There's no doubt in my mind. And the fairs know that, too."
Trainer Jerry Hollendorfer, who wasn't at the meeting, said the percentage of trainers who would support a year-round circuit at Golden Gate was even higher.
"I think 99.9% of trainers and owners would be perfectly fine with running at Golden Gate year-round," the Hall of Fame trainer said. "The fairs are out of date for the times."
Trainer Jonathan Wong wasn't as taken aback as others by the meeting and felt the parties involved would reach a resolution before a breaking point, just like the stabling dispute this year.
"I'm obviously concerned and have a family—a newborn son—but it feels like the same thing as when there was a stabling issue about the summer," Wong said. "But off such a great meet, which we were told was one of the best meets (financially) ever, for both sides it would be stupid not to resolve the matter."
Wong also supported the idea of racing at Golden Gate throughout the year but stressed the horsemen's main concern and source of angst.
If Golden Gate doesn't get approved for its meet beginning in August, what happens then?
"Are we going to stay open to train, or are they going to ask us to leave?" Wong said. "They can't say, because they don't know."
Duggan confirmed that aspect of uncertainty. The management of Golden Gate is unsure how the track will proceed if it doesn't get approved for its meet in August.
"It's impossible to answer that, and I can understand the frustration," Duggan said. "We can neither confirm nor deny, because we don't know."