The Pizza Man, Work All Week Take on Pony Duty
Image: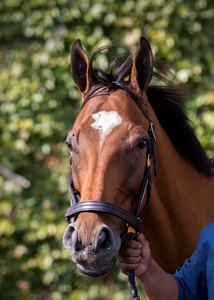 Description: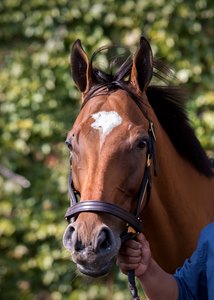 Midwest Thoroughbreds' 2015 Arlington Million (G1T) winner The Pizza Man and 2014 champion sprinter Work All Week returned to the barn of Roger Brueggemann on the Arlington International Racecourse backstretch last week for careers as stable ponies during training hours.
The Pizza Man became the only Illinois-bred to win the Million in 2015. He also captured four other graded stakes events in his 36-race career, including the Northern Dancer Stakes (G1T) at Woodbine in 2016. Following his third crack at the Million in 2017 he was retired from racing.
CROSBY: The Pizza Man Scores in Arlington Million
Work All Week took the Xpressbet Breeders' Cup Sprint (G1) at Santa Anita Park in 2014, one of five wins that led to his Eclipse Award as top sprinter. He retired in October of 2015 because of a stress fracture in his right knee, and after he recuperated from his injury, took up a new job as a stable pony for New York-based conditioner Danny Gargan.
LAMARRA: Work All Week Strong in Breeders' Cup Sprint
"The Pizza Man is happy to be back. He looks better than the rest of the horses," Brueggemann said. "We took him to the gate the other day and he wanted to go in the gate himself. It's very nice to have him back.  Naturally, they're the two best horses I've ever had, so it's really nice having them around. The Pizza Man is going to turn out to be a real nice pony."
Richard Papiese, who owns Midwest Thoroughbreds with his wife Karen, expressed excitement in being able to send his two standout Illinois-breds to Brueggemann's barn.
"He loves where he's at. It's a shame he can't run," Papiese said of The Pizza Man. "He has done plenty for us, but he still wants to run. Work All Week was the same way at Saratoga last summer. He even caught a few loose horses. I think you'll see The Pizza Man play a big role in Roger's barn. Both horses meant so much to Roger that it only made sense to bring them to his barn."