Alpha Centauri Amazes in Jacques Le Marois
Image: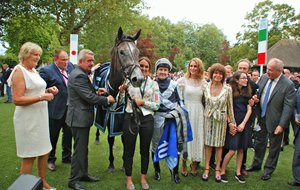 Description:
Like all great touring acts, Alpha Centauri gives her audience the impression she is giving the performance of her life every time.
Racegoers at Deauville Aug. 12 for the Prix du Haras de Fresnay-le-Buffard Jacques le Marois (G1) can be comforted that her awestruck trainer, Jessica Harrington, was inclined to back up the impression they will all have formed for themselves. 
"Ascot was amazing, and when she doesn't do it amazingly, you journalists think she's not as good," Harrington said. "Maybe taking on the colts, it probably was her best race."
Alpha Centauri and Colm O'Donoghue continue to play variations on the theme of domination, although the end result is somehow always the same. But don't mistake familiarity for anything less than compelling sporting theater.
At the Curragh, she came from way back, while at Ascot, she opened up on the home turn. 
The Tattersalls Falmouth Stakes (G1) victory at Newmarket to which Harrington playfully referred was a solo from the front, whereas here O'Donoghue man-marked Aurelien Lemaitre on chief rival With You before letting out the merest half a knot of rein two and a half furlongs out.
It was over in an instant. Recoletos ran on well to win the race within a race, and With You rallied gamely for third. 
"I was just worried a little bit by the horses that raced on the outside, but when the camera angle changed I could see the rail-side group was ahead and she just went on. When she gets to the front she just keeps going," Harrington said. "Coming here taking on colts, I thought maybe I was mad, but she's won all her races with such ease, I thought we may as well try this and see how we're going. She's a once-in-a-lifetime filly for me to train, she's just amazing."
Alpha Centauri is now a general 2-1 favorite for the Breeders' Cup Mile (G1T), although Harrington did raise a note of caution over whether she will be able to call on her star that late in the season.
"She has an awful lot of entries, but we'll see how she comes out of this," said Harrington.
"I know (the Breeders' Cup) has been good to the Niarchos family, but it will have been a long year by then, won't it? One hopes she is not kind of burning energy."
Racing manager Alan Cooper has been part of the Niarchos family setup long enough to remember Alpha Centauri's great grandam Miesque doing the Jacques le Marois-Breeders' Cup Mile double as a 3-year-old in 1987.
While remaining measured in his assessment of targets, a homecoming date at Leopardstown on Irish Champions' Weekend could be in the cards before the band hits the road again for Churchill Downs.
"We have to discuss it with Jessie but I'd imagine it will possibly be the Matron Stakes at Leopardstown and then towards the Breeders' Cup Mile," said Cooper. "She's also entered in the QEII at Ascot, but let's get home and see. I guess having traveled for the last three races it might be a good idea to stay at home for the next one."
Connections of the beaten horses were united in their admiration for the winner. 
Recoletos put the nightmare of Ascot behind him and ran out clear best of the rest. 
"We were beaten by a champion and without her would have won easily," said trainer Carlos Laffon-Parias. "He'll now go for the Prix du Moulin de Longchamp (G1)."
With You may return to a 1 1/4 miles after being overwhelmed by Alpha Centauri before running on bravely to snatch back third from Romanised and Noor Al Hawa, with Freddy Head eyeing a choice between the Prix de l'Opera (G1) and Prix Dollar (G2). 
Ken Condon was in no hurry to name targets for Romanised, although Arc weekend could be an option for him too. 
"I thought well inside the final furlong he was booked for third but he's run very solid and maybe the fact he raced up the center just cost him late on," said Condon. "Maybe the Prix de la Foret (G1) on Arc weekend is a possibility, but we'll discuss it with Shane (Foley), Rupert (Pritchard-Gordon), and Robert (Ng)."
Queen Anne Stakes (G1) winner Accidental Agent blew the start and was never able to get into a challenging position.